Requirements for EFDA (Expanded Function Dental Auxiliary) assessment vary by licensing jurisdiction. Please carefully read the following to understand the requirements and registration that will apply to you. The Expanded Function Dental Auxiliary competency assessment consists of two parts: a simulated patient clinical examination and a computer-based written examination.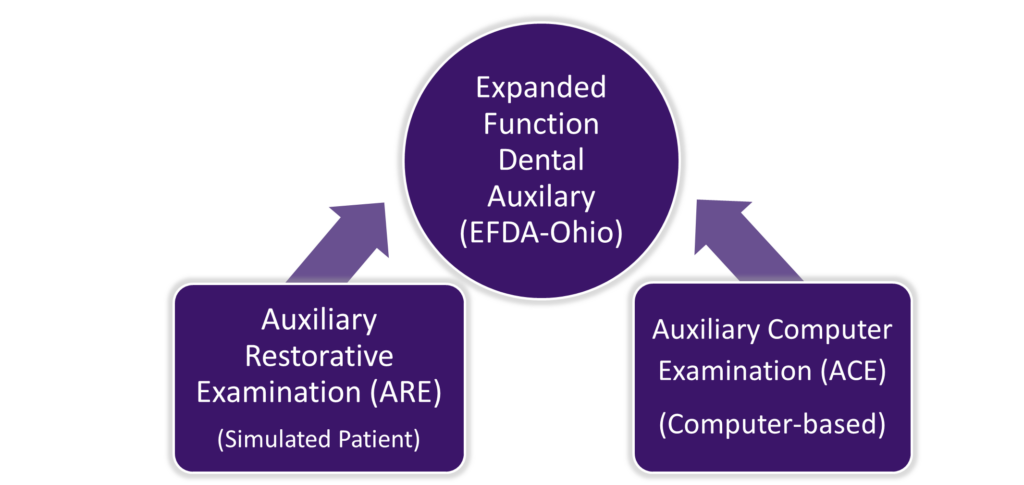 The simulated patient Auxiliary Restorative Examination (ARE) is scheduled at a clinical examination site and consists of the restoration of three prepared teeth (anterior composite, posterior composite, posterior amalgam) on a typodont.
The Auxiliary Computer Examination (ACE) examination is administered at PSI testing centers and can be taken anytime for up to one year after applying for the exam. Details about the written exam can be found at www.psiexams.com.
EFDA Exam Manuals and Form
General Information
Didactic Exam
Criteria Forms
Ohio Application Information
In order to be eligible for the examination, one of the following criteria must apply:
Graduate of an accredited educational (Expanded Function Dental Auxiliary) program that complies with standards set forth in the Ohio Administrative Code, Section 4715-11, EFDA Guidelines.
An unlicensed dentist who has graduated from an accredited dental college and does not have a dental license under suspension or revocation by the boards;
A dental student who is enrolled in an accredited dental college and is considered by the dean of the dental school to be in good standing as a dental student;
Graduate of an unaccredited dental college located outside of the United States;
A dental assistant who is certified by the Dental Assisting National Board or the Ohio Commission on Dental Assistant Certification;
Licensed dental hygienist whose license is in good standing; or
An unlicensed dental hygienist who has graduated from an accredited dental hygiene program and does not have a dental hygiene license that is under suspension or revocation by the board.
New Mexico, Oregon & Washington:
Candidates seeking licensure in these states are advised to prepare and register for the Restorative examination.
Expanded Functions Exam Calendar
In order to register for any portion of the Dental Auxiliary Exam candidates will need to create an online profile. A complete CDCA-WREB-CITA profile includes a mandatory photo, the EFDA Examination Eligibility form, and payment of the appropriate fees.
The application process must be completed on or before the application deadline to avoid late registration fees. All requests to withdraw from the examination must be received by the application deadline to receive a refund. Candidates requesting to withdraw after the application deadline will be charged a $100 admin fee and have their paid exam fees applied to a future examination.
School
Date
Outside candidates
allowed?
Additional Information
Ohio State University
Columbus, OH
August 4, 2023
NO -
Registration will open
June 15, 2023
Registration Deadline:
7/7/23 at 5:00 PM ET
Exam Type: Manikin
Typodont: Kilgore
How do I Register for this Exam?
Please review the exam registration process on how to create a profile and register for this exam.