The ADEX Dental Hygiene Examination is based on specific performance criteria used to measure clinical competence. There are two skill-specific clinical and simulated clinical examinations: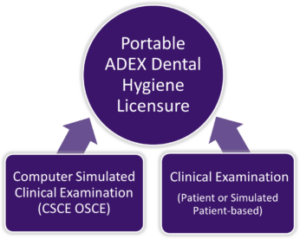 The Simulated Patient Treatment Clinical Examination (SPTCE) and Patient Treatment Clinical Examination (PTCE) – evaluate candidates on their clinical and judgment skills. Clinical skills include detection and removal of calculus, accurate periodontal pocket depth measurements, and tissue management.
The Computer Simulated Clinical Examination (CSCE) OSCE – is designed to assess various levels of diagnosis and treatment planning knowledge, skills, and abilities. Clinically-based questions are utilized through computer-enhanced photographs, radiographs, optical images of study and working models, laboratory data, and other clinical digitized reproductions.
For more extensive information please download the Candidate Manual.
Dental Hygiene Exam Manuals
Only students or graduates of schools accredited by the Commission on Dental Accreditation (CODA) or the Commission on Dental Accreditation of Canada may take the ADEX Dental Hygiene Examination. All other candidates (including international graduates) must apply through the state dental board in the state or jurisdiction where they wish to practice for permission to take an examination for licensure only in that state or jurisdiction.
2023 Registration and CSCE OSCE
2023 Simulated Patient Treatment
2023 Patient Treatment
Dental Hygiene Forms
Dental Hygiene Exam Calendar
In order to register for any portion of the Dental Hygiene Exam candidates will need to create an online Candidate Profile. All profiles must have a passport quality photo, proof of graduation, and some basic information. Once you have completed your initial profile, your account will have to be checked by our candidate services team. This can take up to 2 business days after your account has been made. To avoid any additional fees we suggest making your account at least one week prior to the registration deadline. Any request to be added to an exam after the exam registration deadline has passed will incur a $250 material procurement fee.
All requests to withdraw from the examination must be received by the application deadline to receive a refund. Candidates requesting to withdraw after the application deadline will be charged a $100 admin fee and have their paid exam fees applied to a future examination.
Scheduling requests must be received prior to the registration deadline through our Contact Us platform. While scheduling requests are not guaranteed but we do try our best to accommodate you.
Note: Outside candidates are only allowed in exams that say "Outside Candidates Accepted"

How do I Register for this Exam?
Please review the exam registration process on how to create a profile and register for this exam.